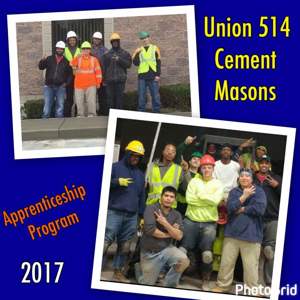 Promoting Pride in Craftsmanship
The Michigan Operative Plasterers' and Cement Masons' International Association Apprenticeship and Training Fund Apprenticeship Standards have as their objective the training of Cement Masons and Plasterers skilled in all phases of the industry. The Joint Apprenticeship Training Committee (JATC) recognizes that in order to accomplish this, there must be well-developed on-the job learning combined with related instruction.
Today's apprenticeship training is managed by labor and management as equal partners, and it has evolved to meet the needs of modern construction industry. An Apprentice in the OPCMIA will be taught the skills and knowledge of the trade through a combination of on-the-job training and related classroom instruction. This two-pronged approach to training permits a young person beginning their career to advance quickly while becoming an increasingly productive member of the crew.
OPCMIA apprenticeship programs offer a standardized curriculum and include the following important aspects of training:
Introduction to the industry and trade history
Identification and proper use of tools
Material composition and mixes
Repair and restoration
Scaffolding and OSHA Safety Courses
Blueprint reading
First-aid and CPR Certification
To apply for a registered apprenticeship opportunity, Click Here.